Abstract MySpace DIV Layouts
Abstract MySpace layouts can mean a lot of different things as you've probably gathered by now. In fact, I'm gambling that you've hit some sites providing layouts that were decidedly not abstract. Here, however, you'll get the real McCoy.
Here's an unusual premade MySpace overlay which employs a kind of a "ripped paper" header style. Your links go on the left in a vertical menu, your content (pic, blurb and videos) go in the center and your music player (optional) and top friends box go on the right.
Check out this screenshot: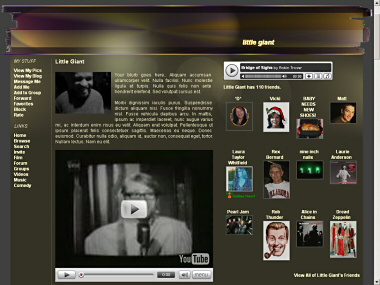 Set at the bottom is your comments section which is layed out extra wide for those pic-posting buddies of yours who like to really spread themselves out.
This abstract MySpace DIV layout is a 100% original creation whipped up entirely from scratch by yours truly using Paint Shop Pro and HTML Kit. (Of course six years of web development experience probably helped out a little as well..).
And is it easy to use? You bet!
Give it a try and see for yourself:
All done.
Now how freakin' easy was that? And that wasn't just a rhetorical question. You can actually post any feedback you might have about this abstract MySpace layout here.
Also be advised that you are required to fully abide by the Rob Thunder DIV layouts TERMS OF USE.
Soooo... Who made all of this possible, you may ask? Find out here. (Add me as a friend!)

OTHER QUALITY MYSPACE RESOURCES:
BACK TO TOP