Dark MySpace DIV Layouts
So has the dreary and mediocre collection of dark MySpace layouts out there got you screaming for more? Don't know what EMO means and looking for something better than just a plain black background and a half-baked font color scheme? Well help has arrived...
Here is the first in the series of ten new DIV overlays for MySpace I've recently launched here at Rob Thunder. This particular overlay features a cool dark header background showing a cityscape off in the distance.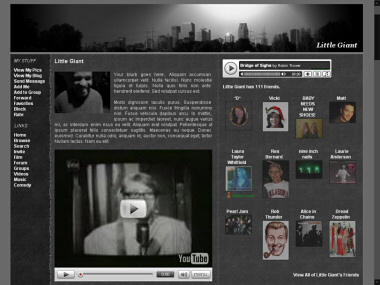 It then separates your MySpace profile into a three column tableless design (any column can be the longest) which puts your site navigation links on the left, your pic and blurb in the middle (supports Youtube videos!) and your top friends on the right.
Your top friends space is the same one generated by the default MySpace layout so you won't have to rebuild it using any gobbledy-gook HTML coding (like you have to do with some other overlays).
AND... (yes there's more)...
Your comments section is set below everything else and spans the entire page. This gives your friends a nice big playground to really get down with their evil and bad selves. With this MySpace layout installed, your friends can post ginormous pics in your comments and it won't spread your page out into a disaster of gothic proportions.
Now how's all that float your boat?
The installation of this dark MySpace DIV layout is a cinch. Five easy steps and you're all done.
You game?
Alright, let's get on it...
And that's a wrap.
Now how did that grab ya?
You can tell me all about it here on my feedback page... :o)
As for the terms of use, in exchange for using this quality dark MySpace DIV layout, you are required to send me one million dollars in small bills plus your first born child to the following address:
.....
..........
....

I'm kidding! I'm kidding!
No but seriously —very seriously now...
A lot of work goes into the making of all the overlays on this site. All that I ask is the following:
DO NOT MODIFY THE LAYOUT CODE SUCH THAT IT CAUSES THE ROB THUNDER CORNER TAG OR TEXT LINK TO DISAPPEAR.
That's it.
For those who wish to peruse the official legalese, here are the complete Rob Thunder DIV overlays TERMS OF USE.
NEW! An exclusive link removal license is now in effect. For more details, check out this special offer...
And finally who am I, you may ask? Find out here. (Add me as a friend!)

OTHER QUALITY MYSPACE RESOURCES:
BACK TO TOP