Plain Black MySpace DIV Layouts
And now for something completely different... Let's make a plain black MySpace DIV layout (a.k.a., MySpace overlay) using this easy-to-use MySpace layout generator. If you've tried other MySpace overlays and became overwhelmed with the daunting prospect of having to fill in (and regularly update) all those friends links then this page is your ticket out of this tedious task.
This MySpace DIV layout generator is able to provide you with this convenience because the CSS code it outputs will hide everything on your MySpace profile except your Friend Space and Comments sections. We'll just let the MySpace Cold Fusion scripts that are already set up to handle those sections do their job while we customize everything else. Right?
But of course you'll want to see what you're getting into so here's an example of what your page will look like after you install this MySpace DIV layout: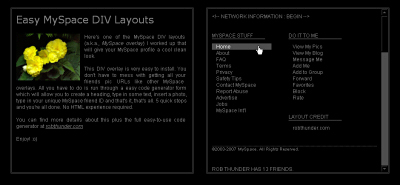 Naturally, you'll get to use your own profile pic and write up your own blurb. And that's what this overlay generator is here to help you with. And believe me... This ain't rocket science. We're going to do this all in 5 easy steps.
Alrighty then.. Let's get on with the installation:
ALL DONE.

Now uhhh seriously... How easy was that? And that wasn't just a rhetorical question. You can actually respond to this by posting your feedback to my MySpace DIV layouts feedback page.
TERMS OF USE
Alrighty then so I did you a BIG favor by writing up the layout code for this MySpace DIV layout and I served it up on a silver platter, so to speak. All I ask in return is that you help send some visitors my way by keeping the Rob Thunder MySpace Overlays corner tag and the 'LAYOUT CREDIT' robthunder.com link intact.
Fair deal?
Can't handle that?
Well, your other option is to throw a little pocket change my way for an exclusive Rob Thunder Link Removal License (good for life!)
ALSO...
Want to stay in the loop and make sure you've always got the latest version of this layout code? Be sure to regularly drop in on the MySpace DIV Layouts Changelog page.
Who am I? Find out here. (Add me as a friend!)

Looking for a more traditional background color? Try my plain white MySpace DIV layout!
Here are some more plain MySpace layouts. They're not DIV layouts but they're still pretty nice. :o)
OTHER QUALITY MYSPACE RESOURCES:
BACK TO TOP